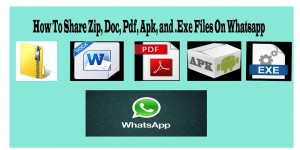 How to share Zip Doc Pdf Apk Exe Files on Whatsapp
Whatsapp is a very famous messanger in today's era. It uses the Internet to send text messages, documents, images, video, user location and audio media messages to other users using standard cellular mobile numbers. Everyone in today's world is too much addicted to it very badly. They continuously chat with their friends or in a group. It is especially popular with end users who do not have unlimited text messaging. In addition to basic messaging, WhatsApp provides group chat and location sharing options. Now it has a calling option also.  So in their busy schedule everyone gets time for Whatsapp it has become a big part of our day-to-day life it is very simple to use and highly popular social networking site.
A. Firstly, you download Drop box and Cloud Send App
B. Now open Cloud Send app.
C. You will be asked to link with Cloud Send Drop box, allow it.
D. Now you share the Cloud Send needed file.
E. Thus the file to your Drop box will automatically load and provide a link to that file.
F. It is successfully uploaded. It will provide two options of copy and share, now you can copy or share link of file.
G. Now you can share this link with your friends or any group whom you want to send it.
H. It is a very simple way to send any file to any app not only Whatsapp. Jut checks it.